With all of the uncertainties facing teachers, many are left wondering how do I prepare to teach this fall? Some schools will be solely distance learning, others in-person, and still others a hybrid of the two.  As educators what can we do to be ready in this ever changing climate?  There is SOOOO much to do at the beginning of the year, and yet with things being adjusted daily it seems impossible to make progress.  These 5 ways to prepare to teach will help you get organized and ready so that no matter what changes are made along the way you will be successful!
Ways to Prepare to Teach With Social Distancing in the Classroom
Let's begin with the idea that you may be teaching in-person.  As schools reopen, our classrooms are going to look a lot different compared to the past.  And for kids, social distancing is TOUGH.  As you use these 5 ways to prepare to teach this fall, here are a few things to consider:
Transitions and Routines
  How will you keep students apart as they travel between activities and locations?  I love using spots attached to the floor students can line up on prior to leaving the classroom (fish, feet, apples, etc.). Set the expectation with students early that they will stand an "arms length" apart right from the start as well. Procedures for putting on and taking off masks depending on your State and District requirements are also a must! Remember, the more you introduce and practice routines right from the start the easier it will for your students to follow these rules.  
Classroom Centers
Collaboration is such an integral part of learning, so how can we support student interactions while maintaining an appropriate distance?  Hula-Hoops make a great "space maker" so that students can move from their seat to a center location designated by the hoops. Each child can sit within their own hoop, and the hoops can be moved and easily disinfected.  I also use BINDER CENTERS to allow students ways to interact without sacrificing collaboration due to social distancing. Binder Centers allow students to quickly grab individual materials to use at each center and can be stored in student desks.
Student Manipulatives and Materials
Another thing to consider is how you will provide students with the materials they need for learning while minimizing sharing.  As we work together to prevent the spread of germs this is one area that will take some preparation.  Making individual Student Tool Kits is one way you can ensure students have the manipulatives they need for activities without having to share materials.  Additional things to consider:  How will they be stored?  What will you include?  
Set Up a Digital Classroom to Match Your Regular Classroom.
This is one of the 5 ways to prepare to teach that I LOVED doing! Bitmoji Classrooms are a wonderful teaching tool that can be used while you have students attending in-person or remote learning.  These classrooms can be designed to look like your classroom. They also hold assignments and interactive activities students can complete from home. So much fun!  I love using this for reading aloud to my students and to provide them with extra practice through educational games.  And the best part is that this is one thing you can prepare that works for all learning settings!
Keep in Contact With Colleagues.
Planning for lessons you will be teaching is so much more fun when you can work with someone else. You never know what ideas the other person will bring to the table! Brainstorm ideas to make things more efficient as you come up with activities and lessons to share.  Plus, if you divide up the work, all partners get the full benefit of the completed tasks with only a portion of the work!  My colleagues and I love to plan together.  By asking each other questions and clarifying our ideas to each other we have come up with some AMAZING content based activities that our students love.
Practice Using Technology.
Let's face it – as wonderful as technology is, things don't always go according to plan.  Prior to the start of the year, practice setting up online student meetings. Assign digital tasks through your Google Classroom, Schoology account, or email and test things out!  This will save so much time when that first day arrives!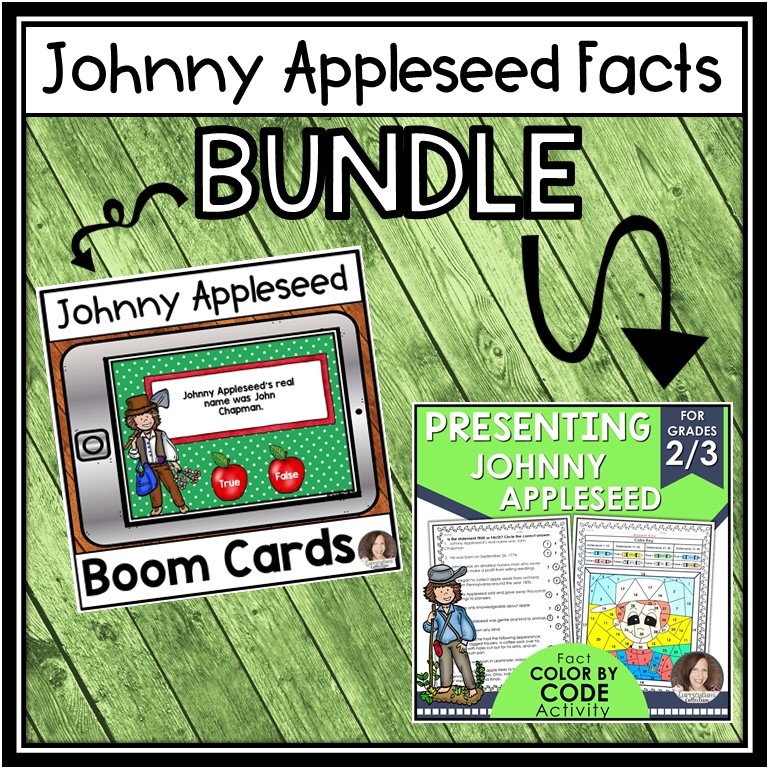 Know Your Content.
You may not be able to determine HOW you will be teaching in the fall, but you can begin to prepare WHAT you will be teaching.  Regardless of whether you are teaching in-person or online, the students will still need to learn the same content.  What better way to get started then to review those topics and make a plan of how that might look in both settings.  In addition, many teacher authors have created activities in both paper and digital to make things easier for teachers.  For example, in this Johnny Appleseed Facts Bundle, the teacher receives both the paper form and digital form of the activity.  This provides a way to teach the same content no matter what way you happen to return this fall.
     We may not know exactly how this school year will look due to how different things are in the world right now, but you can rock this school year!  Focus on those things you can control and you will fly through whatever changes are thrown your way like a pro.  You can do this! Be sure to check out how to host a Virtual Open House for Elementary as well!